Ref:
Date:
Location:
Photographer:
Ref:
Date:
Location:
Photographer:
About
Amanda has been teaching yoga for over 16 years and has been a fully qualified yoga teacher since 2001, when she trained with the British Wheel of Yoga. She is an ITEC qualified Holistic Massage Therapist and member of the Complementary Therapists Association. She is constantly updating her knowledge having undertaken advanced massage therapy courses including myofascial release, trigger point therapy, Repetitive Strain and Carpel tunnel, neck and shoulder pain, low back pain and Thai yoga massage.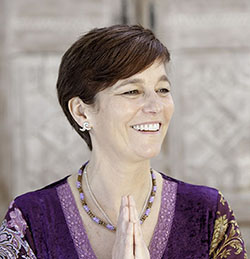 Amanda is also a qualified Infant Massage Instructor and worked for a year with the Children's Society Brighton Massage Service for children with additional needs. Subsequently, she was a Portage Home Visitor for The Children's Society for three years in Brighton visiting children under 5 with additional needs and disabilities and working with them and their families on language and communication, motor skills and behaviour. She has a full and enhanced DRB (police) check .
Her class in Hove for people with M.E. and Chronic Fatigue in Hove has now been running for over 20 years with Amanda teaching for 15 of those years.
It is now one of the longest (if not THE longest) running yoga classes in Brighton and Hove.
YogaTouch came into being when Amanda worked at the charity Scope. Her she worked with adults with Cerebral Palsy and additional needs, who often were averse to touch and had difficulty expressing their needs. She realised that a multidisciplinary approach may be of great help to her clients and so YogaTouch was born. Put simply this approach combines deep relaxation, sensory massage, yoga and sound, which helps clients find new experiences and release stress, all of which encourage them to find joy in their bodies. By regularly practising YogaTouch with Amanda, clients were able to communicate their needs, including likes and dislikes, which in itself is a profound result. They also developed their flexibility and often vocally expressed their joy at the experience.
In addition to working with people with varying needs Amanda, has also developed Yoga classes for corporate organisations such as Brighton and Hove Probation Service and charities as well as other one-off events like hen parties, children's parties and nurseries.
Other than a love for teaching and sharing yoga and massage, Amanda is a keen musician and is passionate about music, movement and dance.